Would you like to feel refreshed and full of energy all the time and not only during the weekends? Improve the quality of your sleep with the RAV Vast tongue drum.

Dreaming about better sleep? Breaking news - you weren't made to be so tired all the time. Did you know that not only the amount of sleep but also the quality affects your well-being? Having enough sleep and keeping the balance between fast and slow phases is essential. If you can't even remember the last time you felt refreshed and full of energy for at least seven days in a row, this guide is just what the doctor ordered. Spoiler, you can manage your quality of sleep and improve it easier than you thought!

Why don't we get enough rest?
"I promise I will get to sleep earlier today!" Well, we all know this affirmation never works, and we end up going to bed at 2:30 AM and wake up exhausted to repeat it all the next night. How to break this vicious circle? Connect with your body! Does it sound ridiculous to you? Like, this is the body I live with, how can I get closer to it? But the point is we usually focus on the outside triggers rather than on our inner state. For how many times it happened to you when you have been sitting in an uncomfortable pose with your muscle tensed, and you noticed pain only after a long time? Most of us get distracted from our own body needs by disturbing thoughts, calls from colleagues, or daily routine.

Now, the greatest "secret" for good sleep is: switch focus from the outside to inside, relieve tension in your mind and body properly, turn of the light and you'll have the best sleep in your life! Easier said than to do? Thankfully, there's a way to reach a deep relaxation without Prozac, massage sessions, and tones of Epsom salt. A short 15-minutes session playing the RAV Vast drum can help to relieve tensions, slow down your mind and set yourself for a good rest.

Music is your lullaby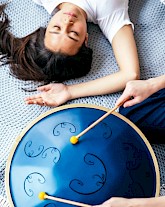 No wonder that music is used to lull babies as it provides many positive effects on our body. Listening to music decreases the level of cortisol (stress hormone) and increases the level of dopamine (happiness hormone). Listening and playing to music can relaxation by soothing the autonomic nervous system and slows down mental activity, heart rate and digestion – that's what we need for a good rest while sleeping.
Does any kind of musical instrument work for that? You'd better opt for one that has a gentle, relaxing sound and won't blow your mind by complicated playing techniques.
The RAV Vast tongue drum has a soothing meditative sound and is very easy to play. Start with any of nine notes tuned to the tongues of the drum. Whatever note progression you choose, you will get a harmonious melody, even if you have no idea about music theory. The RAV Vast steel drum was designed to create perfect tunes without a need to think about chords, notes and composition. The RAV Vast is used by many professional sound therapists and healers, but if you have the drum, you can actually become a healer for yourself.

How to improve your sleep step-by-step
Switch of all the gadgets. Dim the lights. Say the following (or a similar) affirmation: "I am setting aside all the problems. Now I am gonna take some rest to have enough energy to live a full life tomorrow". Remember Scarlet O'Hara's "I will think about it tomorrow"? This will help you to set yourself for rest, switch your brain frequencies from beta- to alpha and change your mode from "fight or flight" to "rest and digest". Place the drum on your knees, and you will feel the soothing vibrations coming through your body and providing an effect of a sound bath. Use special RAV mallets to get a more resonant sound (they also make it easier to play the drum).

Keep your RAV Vast next to your bed. You can start with playing 10-15 minutes and extend your session after (no time limits here). When you finish playing, turn off the light, close your eyes and let the music that is still sounding in your imagination lull you softly and bring sweet dreams and deep sleep till the next morning when you wake up refreshed and completely recharged!
Source: Guest Post
If you offer drumming, sound baths or similar then why not join other members offering this service - join today