Hands on holistic therapies are an accredited executive training provider by IPHM offering a mobile service based in Wolverhampton West Midlands, who provide a range of therapeutic and relaxing holistic therapies.
Can I start by asking what you were doing before pursuing your own career in Holistic health and how long have you been in this area of study?
As a young mother l wanted to get back into work and wanted something to fit around my family life. In 1989 I got myself on a course offering basic aroma therapies which led into the field of wellbeing. I've been delivering therapies since 1992 specialist area holistic health, meditation and yoga.
Great, it seems like you have extensive experience! Is there anything that made you change direction to holistic therapy?
I really liked the idea of holistic therapies and wellbeing and it went on from there. I work in hospices and hospitals delivering therapies to ex war veterans who have lost limbs in war and suffered trauma, disabled individuals , cancer and motor neurone patients to name a few .So, it's a vast area . I can only say those receiving these therapies say how wonderful they feel afterwards, just by having one hour of therapy a week. Therapies takes us away from everyday stresses and worries things we are dealing with in silence and for a while put us in a peaceful and relaxed state. I wouldn't do anything else and can't imagine doing anything else.
You are so passionate about what you do, I just love it! So, did you receive any help or was it all solo?
I started off on my own and carried on. It hasn't been easy running a business and raising a family. It takes a great deal of patience, dedication and determination with a good sense of humour ' don't take yourself too seriously'. l have managed my family life and my work life very effectively. Good organisation is the key.
As part of IPHM you are a practitioner and executive training provider so how do you manage to combine it all by offering your own therapies and teaching students?
Good work ethic and time management. We have broadened and brought holistic health and wellbeing to the local communities and surrounding areas and we encourage our students to work to the standard and we continue to offer support and ongoing training. Students can enrol on 1 or 2 courses at a time and complete these at their own pace. We offer practical guidance, good structured modules and we understand students may have family and work commitments. We try and get the balance right. As mental illness is being highlighted every day and the pressures put on both young and older people by social media, these are causing increased amounts of stress and anxiety in individuals therefore with holistic therapies we feel we can contribute in a positive and effective way going forward.
Looking at your website and IPHM profile I see that you offer a lot of varied courses, so my question is do you have a favourite or main thing you enjoy doing?
The therapies we offer are hot stone, aromatherapy, hopi candling, reflexology, thai compress, baby massage, holistic counselling, meditation and yoga. My favourite is the massage therapies. The response l gets from patients after delivering these therapies is just wonderful everyone enjoys a massage. We promote good health wellbeing.
Oh wow, that impressive! It's always nice having one main thing that you enjoy doing. You have been with us for quite a while so can I ask how being a member of IPHM has benefitted you?
IPHM is a recognised board so everywhere I go I take my ID with me and medical establishments are keen to see that you are with a reputable, recognised accreditation board. You do need to be registered with an accredited board in order to get insurance so when they see the IPHM logo they understand that we are part of an organisation that is supported internationally.
There are many people out there who are scared to take that leap into pursuing a self-made career in what they love so have you got any advice for them?
Go for it! You have to take that risk and follow what you love doing. On average you spend the majority of your life working so you have to make it so it suits you. I had no idea I would be where I am now, I wanted a job that would provide an income and fit around my family life. Throughout my work, I've met some incredible people who have shared their personal journey with me through sickness and good health. You are in a position of great responsibility in this line of work and confidentiality is paramount. Hands on holistics offer free and confidential consultations with a combination of therapies to suit all individuals, we run appointments over the course of six-weeks.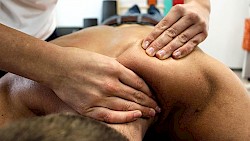 Meditation and Yoga are part of these therapies which help the mind and body relax and are available on a one to one based programme.
How to Find Kerry - Visit Full Profile:
If you are looking for a professional therapist or training provider then choosing check if they are IPHM accredited to be assured of an excellent and professional service. Alternatively if you feel you can offer a great service, IPHM has thousands of clients worldwide looking for you, so why not Join us today!