We are delighted to Interview Fiona Partridge, Holistic practitioner and owner of Training Company 'Inner Spiritual Journey'
Hi Fiona, thanks so much for choosing IPHM and for allowing us to get to know you better. One of the things that lots of people are interested in is how our members got started in their current role, and how it came about. Tell us, what were you doing before you started in Holistic Therapies
My life before holistic therapies always centred round administrative based roles. I moved from my home in the Forest of Dean to Bromsgrove in 2004 and obtained a job within the Children's Centre team of Redditch Borough Council. Over time this led to working in the Family Learning Team.
During this time, I did the very grown up thing of getting married, buying a house and having our beautiful little girl.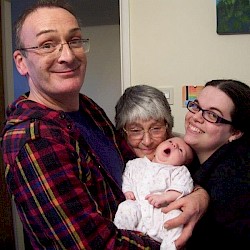 Fiona with baby and Uncle Jonner

Unfortunately, there was a major restructure of the Service, my post was removed at the Council, and I was made redundant. Me and a colleague found ourselves winging our way to a local Community Interest Company (CIC). We became managers of the CIC and a massive building; it was a busy and challenging but rewarding role. Over time though I realised that my work life balance was shifting and in 2017 I needed to make a major decision.
It sounds like you'd developed a strong career so it must have been a big decision to choose to walk a different path. What made you decide for that to be in Holistic therapies?
Reiki Training - I'd had a strong interest in Holistics for 10 years at this point. I met my Reiki Master in 2007 in a Tyre depot in Bromsgrove (seriously!). We were sat talking and I discovered she was looking for students for her very first Reiki 1 course. I virtually signed myself up there and then!
Training in Reiki 1 was absolutely fantastic; I loved every minute of it and can still remember it to this day. I quickly went on to complete my Reiki 2 qualification and became a practitioner with my own clients. But then things stalled as I got married and had a baby.
But If I'm truly honest my holistic journey began the day I was born, and it's thanks to my Uncle Jonner. For as long as I can recall he always told me I was destined to be a teacher, a healer, and that my purpose was to support others to become the person they are meant to be.
students know they are getting the best quality courses.
I was Jonner's 18th Birthday present as we were born on the same date. He was Reiki 2 trained and a strong believe in the power of Holistic Therapies in supporting the Whole Body approach. All through my life he kept asking me, 'have you trained yet? Are you a Reiki Master yet?' It was simply so I could train him for free, because he was tight! But I never got around to doing it.
I was devastated when he passed away on the 13th April 2014. I felt that I'd let him down and not listened to what he said and I vowed to change that.
So I trained as a Reiki Master Teacher and since then I've gone on to become so much more. I'm a Crystal Reiki Master Teacher, Reiki Grand Master, Life Coach, Master Hypnotherapist, Golden Angelic Teacher, Meditation Master Teacher, Mindfulness Master and I hold a Level 2 AET which enables me to teach in the Adult Learning sector – all since Jonner's death.
Wow, that's quite a list! Uncle Jonner was right all along. So you're a Training Provider too; how did you get that started?
Offering my first course - I ran my first course in November 2014 - 'Inner Journey'. This first course was a bespoke 4-week package aimed at people with low mood, depression and anxiety. It allows anyone of any age to realise that they they can control their mental health, low mood, anxiety, depression, addiction, and more, with a holistic approach. We utilise meditation, mindfulness, mandala and Reiki. It's a totally unique course that isn't offered anywhere else in the world and I'm proud that Inner Journey has gone from strength to strength since then, even being nominated for an award. I've taught over 1000 students from the Adult Learning sector and in a variety of school settings as well as within the corporate sector.
I've come to realise that none of this would have been possible if Jonner had still been here; he was my safety blanket and it was only wanting to make him proud that prompted me into action.
I'm proud that Inner Journey has gone from strength to strength

Am I right in thinking that you accomplished all of this alongside holding down a demanding job and raising your family? No wonder you needed to make a big decision.
I know, and my life is completely different now. I made the big decision to become totally self-employed in 2017 and I haven't looked back since. The Teaching Academy is so busy, pushing students and watching them bloom.
My Therapy Practice - My therapy practice is growing and developing with new clients joining us each month. I feel blessed to have such a wonderful little business that touches the lives of so many people who are sometimes at their lowest ebb. It's a privilege to play my part in supporting their recovery. And it's all thanks to my wonderful Uncle who could always see something in me that I never knew what there.
That's so inspiring Fiona, I'm sure your Uncle is very proud of you. Tell us, do you work as part of a team?
Inner Spiritual Journey is just me, Fi. Although I do have a little army of volunteers who help within my Groups, with social media and generally keep me sane. I couldn't do it without them.

What would you say is your favourite therapy? And what can customers expect when they choose Inner Spiritual Journey for their therapy needs?
Gosh it's hard to choose a favourite, but I guess it would have to be one of the Reiki based therapies. Reiki is and always has been my first love.
We have our very own Therapy Room, The Retreat, which is truly a little slice of tranquillity. Set away from the hustle and bustle of life, customers can give permission to enjoy themselves and relax.
I get to meet some truly remarkable people each and every year, and their stories are what make ISJ an interwoven tapestry of magic.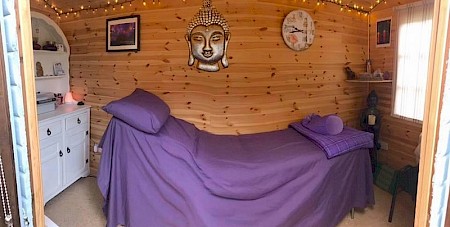 I really wish I lived closer! We love that you've chosen the IPHM for your accreditation needs. What made you decide to join us, and what would you recommend to other practitioners about being accredited?
Why I joined IPHM - "When I began ISJ I wanted to ensure that anyone who trained with us knew they would get nothing less than the best. That's why we chose to become accredited with the IPHM, because they are a leading provider within the Holistic field." It affords us peace of mind knowing that our potential students will recognise this mark as a sign of high quality teaching.
It's also great to be able to use the logo, which speaks for itself; students know they are getting the best quality courses.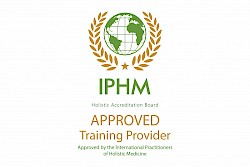 What does the future hold for Inner Spiritual Journey?
We're always looking to move forward and have more therapies coming later on this year including Indian Head Massage and hot waxing. I'm always busy tapping away on the keyboard writing new courses, enabling our students to become the best versions of themselves they can be
What tips would you have for anyone wanting to start out?
It can be slow going within the Holistic field, but the key is not to be disheartened. It's important to offer the best of yourself to each client, each treatment. It only takes one satisfied customer to allow the ball to start rolling, and you build from there.
One treatment at a time is great advice! So to finish, will you share with us the funniest thing that's happened to you as a therapist?
Funniest Experience - I once got smacked in the face by a client who had fallen into a deep sleep during a Reiki Treatment! She suddenly woke up with a start just as I was working over her Heart Chakra, up came her arms and she smacked me square in the face!
Oops, maybe a suit of armour needed for the future! It's been great getting to know you Fi, thanks so much for sharing your story.

Inner Spiritual Journey
Workshop with personal & practical training in Reiki Level One, Reiki Level Two, Reiki Master Teacher, Life Coaching, Meditation Teacher, Inner Journey - bespoke 6/12 week course
Location: Worcestershire, United Kingdom
Tel: 07554796300
Email: Enable JavaScript to view protected content.
Website: www.isj-worcs.co.uk