Meditation & Holistic Therapies Services offered by Wendy from Spirit Bridge Mediumship

Ben interviews one of our IPHM members from Spirit Bridge Mediumship, Meditation & Holistic Therapies are an accredited training provider by IPHM offering practical workshops and courses in Indian head massage, crystal healing, aura and chakra healing. Workshops/training for Meditation, thermal auricular therapy and beauty specialist facials
Can I start by asking what you were doing before pursuing your own career in Holistic Health and how long have you been in this area of study?
Well I've done various things; I've mainly worked with children who have severe learning and physical disabilities and I trained to be a nursery nurse before leaving and then left to work with children who have hearing impairments. I then went into working with adults who have mental illness and learning disabilities, so I guess most of my career has involved me helping others.

Awe I love that! When did you start Spirit Bridge Mediumship, Meditation & Holistic Therapies?
Well I have been meditating and doing yoga since I was 16 which is over 40 years so I can say I definitely know the benefits of it. I thought I would take a meditation diploma which I know use to help train others up to teaching standards, so to me it was just a natural progression in my career. To answer your question, I would say about 20 years in some form or another in either meditation, healing, massages or beauty therapy.

Wow! That's a very long time and a lot of experience. Did you receive any help when transitioning into this well built business?
Nope! I did it all myself. I looked up courses and read reviews online. I guess when I first started there weren't that many people here in particular doing things like reiki so I just looked up people who had the same mindset as me. People who weren't doing it for the money but doing it because it's what they loved. As I was working, I saved up money for courses and kept doing that until I was entirely on my own.
You seem like you have always enjoyed learning then! As you are a Training Provider, what workshops do you offer to students? At the moment mainy Reiki, meditation and mediumship. I also do chakra healing, crystal healing and do occasionally teach people facials such as neck, back and head massages. My favourite thing to teach is meditation! It's my passion as well as Reiki. I also offer sound healing to group sessions in centres like churches.
Nice! You do seem very passionate about what you do. What is your biggest achievement when growing this business? Oh, definitely working in America and Canada. I ran some workshops that included meditation and talked about how we do our reiki here. I was over there for a few weeks when running these workshops and they actually asked me to go back in 2019 but I wasn't able to do so however I am planning on going back this year. I have also worked in Germany which I loved so meditation has taken me to some places that I never thought I'd be able to go to.
Wow I bet you didn't imagine that when you started this. Very Impressive! How have you benefited from being accredited by IPHM? Well every person that I have taught, I have always mentioned IPHM because I think if you can show your clients that you are serious about what you do and also very proud then it's nice to have something behind you such as IPHM. People always ask me about the logo and the meaning behind it because they are impressed and to be able to say that I am backed and accredited by IPHM makes me proud! I like to show the logo on my certificates and my website because I am very happy to be accredited. I recommend you all the time to all my clients.
Well thank you very much, that means a lot! My last question to you is do you have any advice for the people out there scared to take the first step to follow what they love? I would say believe in yourself and trust that all will be well. Go for it! If you don't try you will never know! For me it's worth it. I have done some therapies that I have advertised that haven't worked out so well but it's all a learning curve.
It has been lovely speaking with you Wendy! Do you have anything else that you would like to add to this? I would just like to thank all of you at IPHM for all of your hard work and keeping us up to date on things. Without you I wouldn't be accredited by a recognised body and I wouldn't be where I am today, so thank you!
How to Find Wendy - Visit Website

If you are looking for a professional therapist or training provider check if they are IPHM accredited to be assured of an excellent and professional service. Alternatively if you feel you can offer a great service, IPHM has thousands of clients worldwide looking for you, so why not Join us today!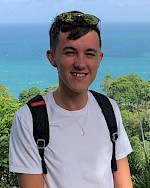 Ben Brook - IPHM Social Media