Ale Ramirez - Your Growth Game
Today, we are absolutely delighted to introduce you to Ale, an IPHM accredited Life Coach! We interviewed Ale at the end of July on Instagram Live and we wanted to share her amazing journey with you.
Over the last 18 months Ale has been on the most amazing journey and decided to train in:
Meditation
Life Coaching
NLP - Neuro Linguistic Programming
Inner Child Therapy
Ale wants to help people, help themselves on a greater level, to help people heal, become the best and most authentic version of themselves FOR themselves. Ale told us that IPHM accredited training course have given her structure and knowledge to become a successful life coach.
Ale started this journey by completing a life coaching program, she enjoyed it so much and found it so insightful that she also completed Level 1, 2 and 3 in Life Coaching from Luna Holistics (IPHM accredited training provider). Completing both courses gave Ale two different perspectives and enabled her to use all the tools that she had learned successfully. It also meant that Ale was able to see life coaching from two different perspectives. She was able to take aspects from both training and build her own Life Coaching Program.
The Luna Course not only gave her insight and training into becoming a life coach but also taught Ale a lot about herself, including how to deal with other people's emotions and perspectives without taking too much on herself.
Meditation training with Sound As A Bell opened up a can of worms for Ale. It gave her an insight into the THOUSANDS of different types of meditations that exist and how they can benefit is. Studying meditation meant that she could learn facts about how meditation can benefit us on a biological level as well as a spiritual level.
Ale said NLP teaches you that everyone processes their experiences differently and allows you to reframe trauma. It allowed her to be able to communicate with people better. She also used it to reframe her own experiences, she found that she no longer felt as much pain at past traumatic experiences and that was an absolute game changer for her!
Ale does not see an end in sight for her love of learning about self improvement and self development as they have benefited her life in every way. She has discovered so many tools to change the way that we think and feel about ourselves and ultimately better our lives. And feels that the more we can learn and share, the more we will ultimately benefit.
Ale has 12 or 24 week programs that will help you grow in 6 different areas! They give you the resources to understand yourself as a person and help you move forward as a person. It's to help you understand more about yourself and heal your wounds. She is also able to offer a one-off clarity session, this is for people that are interested in gaining an initial sense of clarity to help guide the next part of your journey.
Her website and social media channels are refreshing and raw. Ale is honest and open about her experiences and the kind of clients she is looking to work with! It's refreshing. It was exciting and eye opening talking to Ale, a young woman that is looking to level up in every single possible way and share that experience and knowledge with as many people as possible.
If you're interested in a free one-to-one consultation with Ale please email Enable JavaScript to view protected content.
Please check out our interview with Ale by clicking on the image below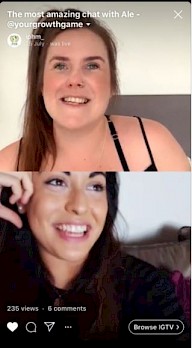 Ale's IPHM profile is here
FOLLOW EACH OTHER - SUPPORT EACH OTHER - LETS WORK TOGETHER