Working during lock down
There has never been a more important time since the Internet was invented for people to now start offering therapies and training online. Due to the whole world been temporarily in lockdown if you have not considered taking a training course or therapy online then maybe now its time to have a rethink.
Online therapy, may also go under names such as E-therapy, E-counselling, and both therapist offering their services or training providers offering courses in a wide range of subjects that can be taught online has never been more popular.
How It Works
Primary tools for communicating in online therapy include:
Email
Zoom Chats
Text messaging
Real-time chat
Internet phone
Video chats
Mobile device apps
As most people now have access to either a desktop, laptop or mobile device then services like this are also becoming an increasingly popular option.
A review of studies published in the journal World Journal of Psychiatry, patients receiving mental health treatment through video conferencing reported "high levels of satisfaction.", it may not be for everyone but there are success stories and some clients prefer and feel more secure when chatting to a professional in their own environment.
What services can be accessed on line?
Any service that does not require immediate or close contact and can be offered via any methods from the above list can be effective.
Tarot readers & counsellors have been offering personal readings and consultations for many years so this is not unusual for them to now have to take their work online for the time being.
Reiki/energy/ healing can be offered via distance healing and is known to be very effective. I have personally just had a distance healing session with one of our very own IPHM members – Gaynor from Route to the Soul and can vouch for the positive results achieved.
Beauty Therapy online – although makeup artists, massage therapists and hair and beauty consultants are not currently able to work directly with their clients, many are using their time wisely. Some are taking this opportunity themselves to get further training in preparation for their return. As busy therapists they may not have previously has the time to update their own skills so are now using this time for the benefit of themselves and their future clients.
Others have turned their own skills into courses to help teach others. Either way it has become apparent that we are going to be using online therapists and healers more in the future.
Do you still need to be insured - The IPHM recommend insurance for anyone working with the public and may insurance providers are aware that offering insurance for online therapies and services is needed. Members of IPHM should access this via their dashboard, and will be eligible for a discount.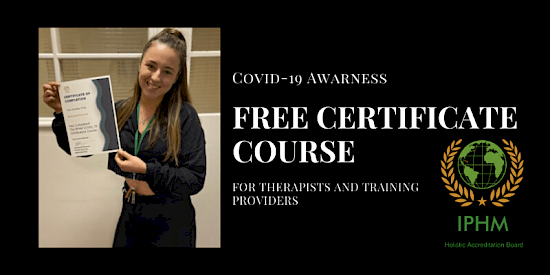 Source: TK
You may also like to read Confessions of a Virtual Therapist: