Sacred Celebrants Academy
Glastonbury, Somerset, United Kingdom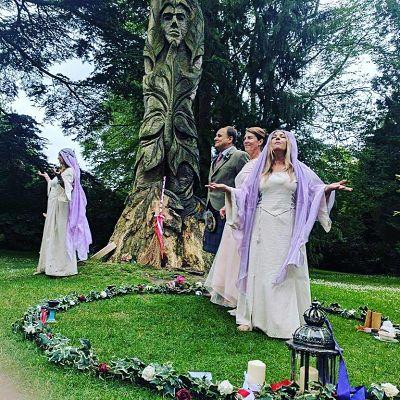 Offering
The Sacred Celebrant IPHM Accredited.
Nine Month Training Programme, Pagan Funeral Celebrancy workshop Training. Ceremonial Assistant Workshop Training. They offer expert guides and teaches in cermonial work.
Sacred Celebrant's Academy is a centre of excellence based in the beautiful historic town of Glastonbury in Somerset.
This training is life-changing, inspirational, professional and extraordinary, encouraging you to step fully into your vocation as a Sacred Celebrant. Our priestesses are from the Glastonbury Goddess Temple and are the only persons authorised to conduct legal pagan marriages in the UK.

Sacred Celebrant's Academy offers courses on how to conduct pagan wedding ceremonies , known as handfasting, funerals and baby naming ceremonies. These are accredited courses taught by highly trained and professional Celebrants and Ceremonialists, Covering all aspects of the ceremonial rituals that you need to learn in order to become a fully-fledged Sacred Celebrant.
Students will benefit from the following training:-
Face to Face practical classes of seven weekends in the academy location in Somerset for classes that start at 10am and finish at 5pm/ Distance Delivery: includes: Homework in essay form with teaching support , two case studies of chosen ceremonies with consultation notes/ spreadsheet & follow up notes/ a Facebook private group to keep up support and communications between teacher and students: training pack with modules of information for distance learning to combine with weekend classes
Visit Website for more infomation