Deborah Enrici
Executive Practitioner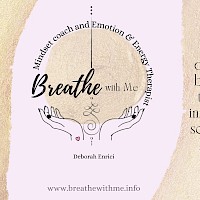 Profile
Therapies Offered:
---
Deborah Enrici
Mindset coach and silent counselling practitioner.
Hello everyone, my name is Deborah and i am a mindset coach and silent counselling practitioner.
I help women reclaim their identity, know their self- worth and discover their souls purpose.
I am currently offering an 8 week package.
The program is designed to discover who you really are and what you really want. I will take you on a journey from feeling like you are in the dark just like a New Moon to shinning your light as bright and as boldly as the Full Moon.
It's a 3 step process where I will take you through
1. Mindset work to rewire your brain and dissolve old negative beliefs,
2. Energy work to dive deep and get to the root cause of what is keeping you from moving forward and help you to heal
3. Use the magic of the moon to guide you through the lunar phases and their teachings to gain further support and direction on your journey.
Please visit website

I also offer silent counselling sessions. Silent Counselling enables you to release negative emotions attached to the past and It can also help with eliminating fears, anxiety and phobias.
How it works?
Negative energy can get stored in our bodies for a very long time. This negative energy can manifest itself as physical pain i.e. sore back, sore arm etc or can cause us to feel out of balance, the feeling of being stuck and also create emotional pain.
It works by using the body's energy system, rather than the retelling of painful events, to identify and diffuse the negative emotions giving you the power to move on from the past and move forward into the present.
It is an exceptional and powerful type of therapy as the releasing gets done WITHOUT THE NEED TO TALK!

It addresses root causes, not just the negative emotion, the effect is a long-lasting change
The usual trigger factors that send someone spiralling backward no longer have power over them
There is no need for clients to talk about a past event or trauma
It empowers people to make positive changes in their life, allowing them to feel lighter, happier and more peaceful
The benefits are felt very quickly – either immediately or within 24 hours
It helps people make decisions and empowers them in their life choices .

Please visit website for more information.