Ioanna Brati IPHM
Executive Member
Greece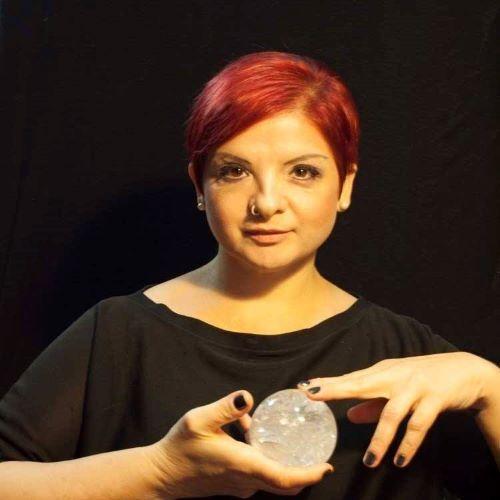 Enable JavaScript to view protected content.
Offering
Shakila Ioanna Brati encountered crystals in 1987 and she soon started her research on their energy and dynamics, something which finally led her to study crystal therapy.

She has been practicing crystal therapy professionally since 1991.
In the past few years her aim is to transfer her knowledge and love for crystals to her students, through teaching crystal therapy at the Academy of Ancient Greek and Traditional Chinese Medicine. Prior to this, she had also been teaching at NHS (Natural Health Science) College, as well as in various alternative healing schools in Greece.

She is a Reiki and Angelic Reiki Master Teacher. She also holds diplomas in Traditional Chinese Medicine, Shiatsu, Traditional Chinese Nutrition, Electroacupuncture, Reflexology, Aromatherapy, Spineworks, Bodynamic and Light Beamer. She is also a graduate of Esoteric Therapy and Psychoenergetics. She holds a diploma in SRT (Spiritual Response Therapy), Sound Healing and Herbal Remedies. She has been trained in shamanic techniques from various cultures of the world, such as Munay Ki and the Wheel. She has also been trained in Channeling and has been specialized in many massage techniques.
She is a certified practitioner and facilitator of the ever-growing healing technique of the Access Bars®.

She leads various groups for self-improvement. Her most ambitious and passionate endeavor is her Blossoming Goddess women's circle, where she imparts the knowledge and wisdom of traditions from all over the world. With Blossoming Goddess, she seeks to revive Ancient Rituals through Female Archetypes. Women's empowerment and holistic therapy are the circle's primary goals.

At the same time, Shakila deepens her research through collaborations with like-minded groups from the UK and USA. She participates in Goddess Festivals and organizes field trips in archaeological places of worship in Greece. She also organizes the Athens Goddess Festival, which unites alternative healers, speakers and researchers from Greece and abroad.

In 2009 her first book, "Crystals: The Teachers of Light", was published in Greek, by Kedros publishers. In 2015 her second book "Crystal Acupuncture" was published, by Dion. Her third book, in collaboration with the same publishing house, is currently being published in Greek, under the tittle of "Practical Guide to Cleansing and Psychic Protection." She contributes articles in selected magazines and electronic portals.
She has taught Theatrical Game to refugee children from Iraq and has tended for children and adolescents in a Tibetan orphanage, through her participation in humanitarian missions. Her artistic studies encompass theatrical costume design, microsculpture, Ikebana flower arrangements, puppet making and handmade jewelry. Fine arts were and still are her passion, and constitute the means to express her inspiration, through photography, art and kinesiotherapy.
Therapies Offered:
Crystal Healing
Reflexology
Acupuncture
Crystal Acupuncture
Acupressure
Shamanic Healing
Sound Healing
Art Therapy
Channeling
Aromatherapy
Herbal Healing
Healing Massage
Thai Massage
Chinese Medicine
Women's Circle
Guided Meditation
Reiki
Soul Response Therapy
Energy Cleansing
Chakra Therapy
Holistic Teaching
Access Bars Classes