Annette Brown School
Executive Member
Nationwide, United Kingdom
Enable JavaScript to view protected content.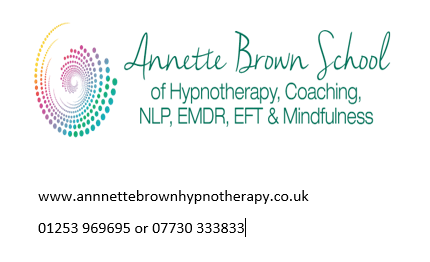 Offering
Workshops with personal & practical training in Hypnotherapy Training, NLP, EFT, Mindfulness, EMDR, Coaching and Law of Attraction.
Hello, my name is Annette Brown and I've been a therapist for 18 years. I have been training students for 13 years and I totally love my job it's my true passion in life. Whether it's seeing clients or teaching, I totally embrace it and so do those whom I treat or teach. Annette Brown School offers a complete programme of accredited training for those looking to forge a new career. The training courses are in Clinical Hypnotherapy, NLP, EFT, EMDR, Coaching, Law of Attraction Coaching, and Mindfulness. I also offer Supervision and CPD training to support the above courses.
The courses are based on theory and practice and there is lots of practice. It is vital that you are skilled when you begin to work with the public. You will be trained with a full range of skills to enable you to set up your own practice as soon as you have qualified in whatever you've chosen to train in.
If you would like to see what my students think of their training, please go to the website and have a look around the site. If you'd like to talk to me about training, please get in touch.
Courses Offered:
Clinical Hypnotherapy and NLP Training
NLP (Neuro Linguistic Progamming), Coaching
Law of Attraction Coaching
EFT
EMDR
Mindfulness
Visit Website for more information.