Corporate Membership for Training Providers from​ £350.00/year
Enjoy cost effective Corporate Training Provider Membership
Corporate membership allows you far more IPHM accredited courses than Standard or Executive membership:
Corporate Band 1: Up to 50 Courses: £350.00/year (£7.00 per course)
Corporate Band 2: Up to 150 Courses: £900.00/year (£6.00 per course)
Corporate Band 3: Up to 400 Courses: £1,500.00/year (£3.75 per course)
We have members worldwide - UK, Europe, USA, China, Canada, Australia etc...
Boost your credibility today by becoming a fully approved Corporate IPHM member.
Receive a Certificate of IPHM Approved Corporate Member Status
Add credibility to your training programs/workshops and courses
Advertise your status and use our Approved Corporate Member IPHM Trustmark on your own promotional materials & student awards/certificates
Receive unlimited Referral fees when you recommend your students
Discount for all members on a wide range of Holistic Products
Your business promoted to thousands of visitors via our website and social media
---
Get your courses accredited. If you offer any form of training course whether this is an online e-learning course or workshops and run classes, you can request accreditation with the IPHM.

Upon successful completion of the accreditation process, you will receive an IPHM Certified certificate demonstrating that you are an IPHM-approved Corporate Member. The IPHM Certified Trustmark can then be used on the accredited training course materials and certificates that you issue to your students. (please note the IPHM does not supply your student certificates) You will also be listed on our website with a link to your own website/social media page showing you as an accredited Training Provider.

Gaining accreditation for your training courses provides an endorsement for your organization, and offers you further recognition and credibility as a professional training provider. If you are unsure whether we cover your course for accreditation please visit here for a full list of courses we are happy to accredit. Therapies covered

Your Training School including links to your own social media and website will be listed on our website and promoted and any workshops or future promotions can be advertised free of charge.

As a member of the affiliate program, you may then use the terms 'recognised by the International Practitioners of Holistic medicine' on your course material and website.
FEES - The total cost of our accreditation for course providers is an annual membership fee which includes accreditation of the specified number of holistic training courses and a full profile page where you may have your own logo and photo listed with scope for a large write-up and multiple keywords included.

Why Join IPHM
Be part of a worldwide accreditation board. Your listing will be promoted using our website and social media so you will have access to even more students looking for an accredited training provider.

Once your students have completed their exam with you they can then also join IPHM as professional therapists/practitioners from £120.00 per year which includes a listing on our site and badge/certificate. Plus you will earn £10 for every student you refer.

What type of courses do you accredit?
We accredit a huge range of courses that are of a holistic/alternative/spiritual nature. Beauty, Arts, and language courses are also welcomed. We are happy to offer accreditation to course providers who can show that they have quality courses and support to offer their students. To see a full list of all courses we cover please Therapies Covered.

To apply for corporate member status, please complete the online application and make your subscription payment. Your application will then be reviewed and your certificate for your accreditation will be sent to you as a pdf attachment for you to print off and also the option of a signed and stamped certificate posted out. You will then be eligible to become a registered course provider and will be listed on our website under the heading of Professional Training Providers.
Referral Programme
As a recognised IPHM Corporate member we will pay you up to £10.00 for every one of your students who joins IPHM by way of your referral. You will find further details in your members dashboard.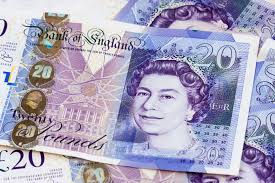 Being an IPHM Corporate Member has additional rewards

​
Show your students you care...Denote your affiliation with IPHM as an approved corporate training provider and add credibility to your training programs and courses. Advertise your status and use our logo on your promotional materials.

Benefits for your Students when they join IPHM
Discount insurance for all members
Professional Membership Certificate
Professional Membership Badge
Free listing on the IPHM website
Free Holistic Therapy Guide Ebook
Approved IPHM therapist logo for their website or social network page
---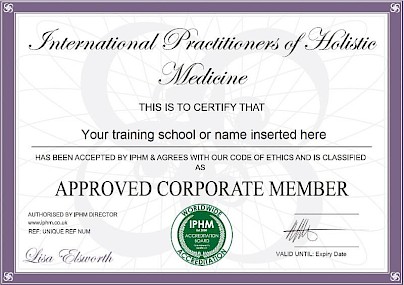 Sample Certificate
T & C's
Please note that by subscribing to iphm your annual subscription will automatically be taken out of your account each year unless cancelled. You will be issued with a new certificate each year. Should you wish to cancel your membership then please cancel this within one month of renewal. Once you have cancelled your subscription your details will be removed from our website. Please note only IPHM members are entitled to use the letters IPHM after their name and use our logo.