Professional Membership for Therapists Only £120.00
International Worldwide Accreditation available for Complementary Healers & Therapists
JOIN IPHM TODAY - We have therapists worldwide
Members of the International Practitioners of Holistic Medicine have the advantage of being able to prove that they are accredited therapists by carrying or wearing their own IPHM membership badge. This will not only show your clients that you are a fully qualified practitioner but will also increase their confidence in you as their chosen therapist. You may also have your website, social media links and therapy treatments advertised on our website. You will also receive an IPHM certificate.
IPHM is also ideal for therapists who offer more than one or many modalities without the expense or need of joining associations for each therapy that you offer. We offer an umbrella for all genuine complementary, spiritual, holistic and natural and beauty therapies worldwide.
Accreditation maximum up to 6 therapies
Option to upgrade to executive status anytime
Personalised IPHM membership certificate
Official IPHM therapist membership ID badge
Use the letters IPHM after your name or signature
Discount insurance available - up to 15%
Links to your own website and or social media pages
Access to members only dashboard
Advertise your services free on our events and workshop page
IPHM Membership Requirements
If you hold a qualification or certificate in the subjects you wish to offer then we are happy to accept you on completion of our application form. We also welcome therapists who have studied accredited online or undertaken a qualified accredited distance learning course. Please note this if for therapist status only if you wish to teach or offer courses then you should complete the Training Provider Membership.
Our Fees
Membership costs £120.00 per year and will be automatically renewed each year or option to pay monthly.
Subscription Payment of £120.00 or monthly payment of £12 plus a deposit. (please note this will be automatically renewed each year unless cancelled) You can also request an invoice for payment or pay by credit/debit card / bank transfer or Paypal. Note you should make your payment at the same time as your application. Once you have completed your application form, you will be presented with details of how to pay. Applications not including payment will be removed from our system after 5 days.
Please note than any student who has already studied and gained a qualification with one of our recognised training providers will be automatically accepted on confirmation if you have been referred to us. All therapists will be required to send a copy of their qualification or certificate as proof.
Membership - Terms and Conditions
A person shall be described as a member when they have agreed to the T&C's, code of ethics and have received their acceptance email and hold a valid updated subscription. IPHM reserve the right to disqualify any member who is involved in any deliberate malpractice.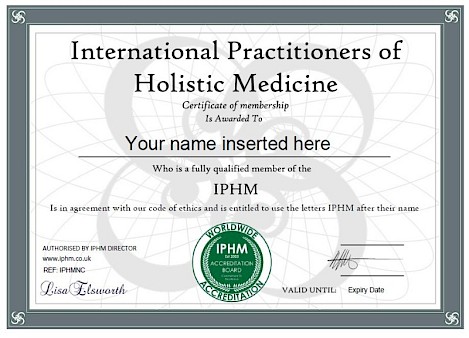 Example Certificate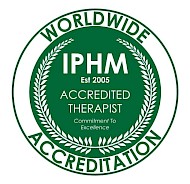 IPHM Accredited Therapist Logo
Frequently Asked Questions
Accreditation is the process in which certification of competency, authority, or credibility is presented to the therapist.
The IPHM is run independently from other awarding bodies we therefore are able to treat all therapists whom can show they have a qualification of training in their chosen therapy or healing module both fairly and equally. Providing you confirm our Terms and Conditions and agree to offer only the best and most professional care to your clients then we are happy for you to join us. We are here to support all natural, alterantive and holistic therapists, counsellors, spiritual healers etc...
IPHM will provide you with a speedy, efficient and professional friendly service. Once we have received your application to join us you could be listed on our website and promoted via our social media pages within days. You will also receive a certificate and membership therapy badge so that you can prove your status of accreditation to your clients and customers. Use the letters IPHM after your name. Obtain discounts on therapy products, insurance etc.. Reach out to thousands of clients worldwide looking for approved IPHM therapists 
 
You do not have to be insured or a member to obtain insurance cover for your therapies via the IPHM however Members of the IPHM have the added advantage of obtaining a discount on their insurance quote. The IPHM does recommend that therapist obtain insurance if working with the public
Type your full name as shown on your membership certificate into the search  box, your iphm number or any of the key words that you have listed to find your particular therapy. 
 You can copy and paste this from your browswer and you will notice it always starts with  https://  If you need us to add any of your links to your listing simply Email us with your links and IPHM number and we will do this for you at anytime. 
Simply email us with your IPHM number requesting the changes and one of our team will edit your listing and update this for you at any time. Usually within 24hrs of request.