MEMBERS IPHM PIN BADGE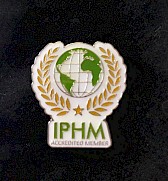 (METAL TIE/PIN/LAPEL/BADGE) Please, note this is for existing members only and you will be asked to submit your membership number when placing your order as proof of valid membership. Your membership number can be found on your certificate. £6.99 each including Free p&p (Maximum order 2 per member) If you would like special recorded delivery or signed for postage, please email to enquire for charges. Standard Royal Mail 2nd class delivery is free.
Therapists Shop
Members of IPHM can benefit from a further 10% Discount off many products shown below when using discount code - IPHM10 - at checkout
(please note IPHM take no responsibility for any products purchased from our recommended suppliers)
---
Hopi Ear Candles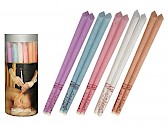 These candles come in a container of 20 pairs of fragrances candles (4 pairs of each: Corn Mint, Rosemary, Lavender, Sandalwood and Rose).they are made from unbleached natural cotton and beeswax and are fitted with a filtered end which is curved in shape to make comfortable and safe for ear insertion. More Details
*** Now Includes a Face Cradle Extension + FREE Carry Bag ***
Therapist Massage Bed - The Physique Massage Couch is one of the lightest aluminium tables on the market at only 10kgs! Due to its unique sprung mattress design giving you and your patient the best possible feedback during massage! Under £250.00 More Details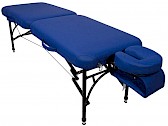 Massage Starter Kit - Whether you are just starting your massage course or you are already qualified, the Physique Massage Starter Kit is your perfect companion to travel between appointments or store in your treatment room.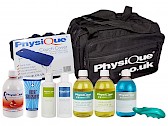 The Massage Starter Kit is filled with all your treatment essentials and includes a wide variety of products to introduce you to a range of massage mediums. Order here
Crystal Water Bottles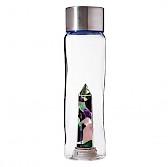 The health and wellbeing benefits of these three gemstones are said to include heart health, skin health (hence the Glow), relief from stress and the promotion of restful sleep. It's the perfect combination to bring a little peace to your life and to create a little shine.
24.5cm in height, holds approximately 650ml
Durable Tritan plastic
BPA and BPS free
The crystals in the bottles can be charged as per your normal method - More Details
Hot Stone Therapy Kits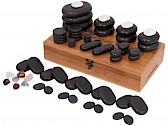 Excellent quality hot stone set made from basalt rock and hand polished. Includes a variety of sizes and shapes for the ultimate hot stone treatment. Basalt stone formed millions of years ago during volcanic eruptions, the stone contains magnetic or titanic iron which retains heat, the stones appear grey or greenish when dry and turn black when wet. Our polished stones are carved from the plate to give a symmetrical, smooth and uniform shape unlike basalt pebbles.
Physique - for all your therapy essentials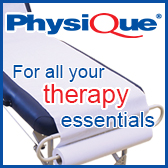 The IPHM are always looking at ways we can increase the benefits available to our members whilst ultimately adding value to the service we provide. We have thoroughly researched the market and found one company to partner with, as they can supply all the products and brands that you need.
We have chosen to work with Physique Management who in our opinion are the UK's leading supplier of Holistic products as our Official Consumables Partner. They have a great track record of working with high profile professional teams, supporting key organisations and supplying a wide variety of health professionals practising a range of therapy techniques.


The key reasons The IPHM have chosen to partner with www.physique.co.uk are...
Industry leading brand
Exclusive 10% Discount on non-promotional products for IPHM members
Excellent product quality & range with great stock availability and new lines regularly added
Fast and flexible delivery options
Dedicated team offering experienced product advice
Product Sourcing Service – If they don't have it, they'll do their best to source it for you
Reliable customer service to meet the tightest of deadlines
Visit www.physique.co.uk and use your discount code IPHM10. If you prefer you can call Physique on 02392 471346 and let them know you are an IPHM member to get a quote with 10% Discount code.